After the start of the school year for our French students, the international activities of our school are back. In order to continue its international exchanges, the Bordeaux International Osteopathic Medical School will travel in October and November to several foreign countries for various events.
From 11 to 13 October, the 6th World Orthopaedic Congress will be held in the Chinese city of Dalian. Dr Staf, the headmaster of our school, will hold conferences on his two main areas of interest and expertise: pediatric osteopathy and cranio-mandibular osteopathy.
For each of the two presentations, Mr Staf will focus his subject on a specific theme.
 • Indeed, it will promote paediatric osteopathy through congenital treatments for infants within the orthopaedic rehabilitation module.
 • Then, he will develop cranio-mandibular osteopathy via the indications of osteopathic medicine and osteopathic manipulations in paediatrics within the module of joint normalization by manipulation.
Interdisciplinarity being at the heart of our practice and teaching, Dr Staf will highlight through his presentations the links between osteopathy and orthopaedics.
Then, rom October 30 to November 1, Bordeaux International Osteopathic Medical School will participate in the 13th NAJAH Training Fair at the French Pavilion in Abu Dhabi. This renowned fair in the United Arab Emirates will host for 3 days more than 16,000 high school students aged 16 to 18, graduate students looking for higher education and schools. To meet their requests will be present 150 local and international universities from 20 countries around the world. It will therefore be a real opportunity for our institute to present our medicine, osteopathy, but also our range of training in France and abroad: osteopathic diploma in 5 years or in 2 years for doctors and seminars lasting several days in pediatric and cranio-mandibular osteopathy. This stay will also allow us to visit Ajman University, our partner UAE institute, and to meet the country's institutions.

Najah international training fair
Finally, in the continuity of the NAJAH exhibition, our school will participate in the Training Forum which will take place on Saturday, November 2 at the Lycée Français Louis Massignon in Abu Dhabi. This forum, organized by Campus France, will provide an opportunity to introduce French higher education institutions such as Bordeaux International Osteopathic Medical School to French and international high school students. As part of this event, we will highlight our
initial training as an osteopath D.O. in 5 years.s
.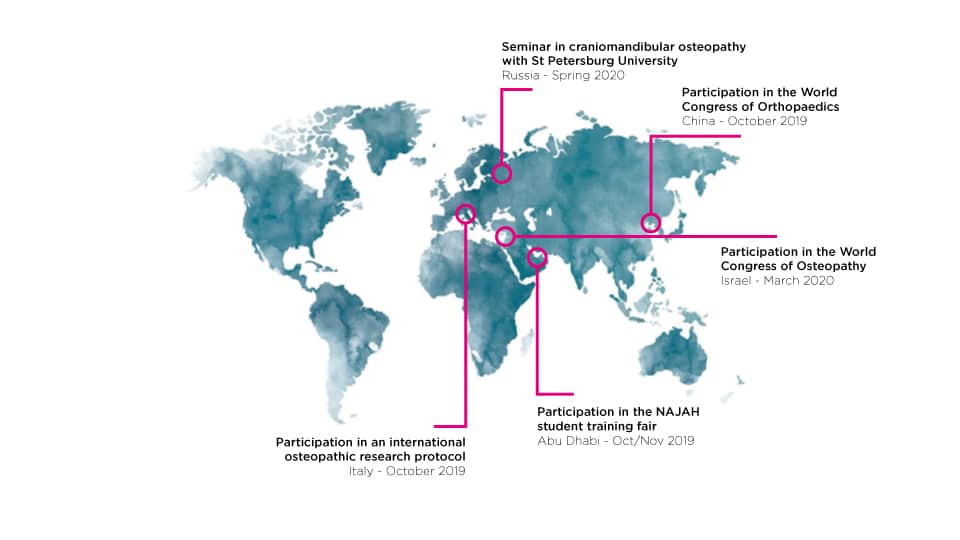 Summary of IOB's International Program for 2019/2020 (schedule on 01/10/19)
This trip will conclude this year our first series of trips abroad. Travels that will resume later in 2020 in Russia, for the organization of a seminar in cranio-mandibular osteopathy, then in Israel for the World Congress of Osteopathy.
IOB team